Nuclear power tycoon C. Montgomery Burns is a man used to having his way. Whether it's a child's plaything he's after, or a million dollar bet with the owner of a rival team, he's willing to skirt, bend, and break rules to get what he wants and maintain his own high standard for excellency. Twenty-one years ago today, Burns assembled perhaps the most talked about team in history*. His "Springfield 9" was a collection of stars expected to win not just a beer league softball crown, but the 1992 World Series as well.

On the anniversary of that occasion, I thought it appropriate to look back at that team, not only to remember what became of them that year (oddly enough, while a documentary on their spring training and footage of one game against Shelbyville are regularly televised, the 1992 season itself is rarely discussed), but also to muse about why it happened.
*Obviously the Springfield Nuclear Power Plant team was fictional, but today DOES mark the twenty-first anniversary of the original broadcast of that episode, "Homer at the Bat." Often mentioned as among the very best in the show's entire (and ongoing) run, it was the first episode ever to beat "The Cosby Show" in the ratings ("The Simpsons" used to air on Thursdays), a huge deal at the time. Why am I writing about it on the twenty-FIRST anniversary instead of the rounder and more commonly celebrated twentieth? I didn't have a blog then! Anyone interested in the story of this episode being made should absolutely read Erik Malinowski's article at Deadspin (published one year ago today), detailing players demanding rewrites, struggling with their their lines, and reflecting on the unique fame and prestige that came from appearing in the iconic episode.
Monty Burns' idea was to sign the best player at every position. Attending to the responsibilities of nuclear power and the proper disposal of its waste left the eccentric billionaire unfamiliar with the modern era's stars. Sadly, Honus Wagner was not walking through that door, nor were any of his other targets, all of whom were dead. With the help of head scout Waylon J. Smithers, a more lively roster (with nine former All-Stars) was built. Such a spending spree would've made even George Steinbrenner blush, and at least one player was hesitant to join, but Burns cared not for the expense, and certainly not for players' opinions. Experts were brought in to get the team in physical and mental shape.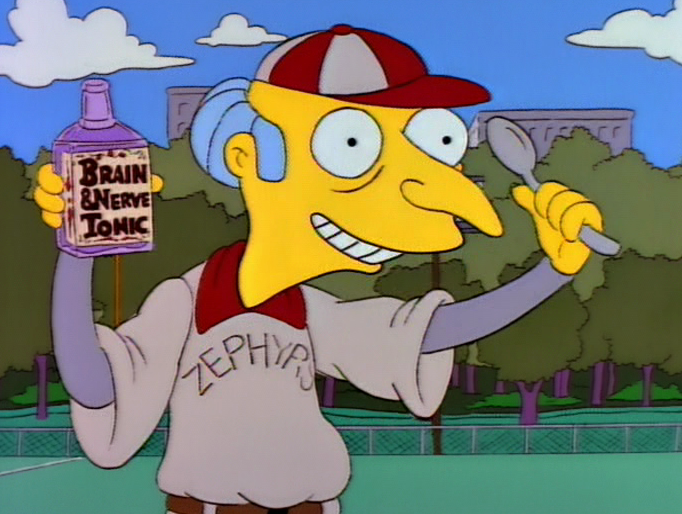 Burns' newly acquired talent (and age in 1992):
Pitcher: Roger Clemens (29)
Catcher: Mike Scioscia (33)
First Base: Don Mattingly (31)
Second Base: Steve Sax (32)
Third Base: Wade Boggs (34)
Shortstop: Ozzie Smith (37)
Left Field: Jose Canseco (27)
Center Field: Ken Griffey Jr. (22)
Right Field: Darryl Strawberry (30)
Only Griffey was young (how Burns was able to pry a 22-year-old Ken Griffey away from the Mariners is a mystery). Other than him, only Canseco and Clemens could still have been considered in their prime. That's a very old infield. Most of the players had strong 1991 seasons, so you can understand their appeal to Burns, but buying a year late is a common problem in baseball. Heading into the season, the team had no depth. Most glaringly, there was but one pitcher with big league experience, which poses a serious problem for any team hoping to contend (unless that one pitcher is
Old Hoss Radbourn
). Burns was eventually able to put together a bullpen and the rest of a starting rotation filled with average players, but the team's bench would be made up almost entirely of replacement level* hacks, player's who'd never played at that level before and frankly, mostly lacked the talent for it.
*I'm relying on a metric called WAR (Wins Above Replacement) to take players' actual 1992 production and translate it into the wins and losses a real team with such players would be expected to have. If you're unfamiliar with WAR and the idea of a "replacement level" player, this link will give you a detailed explanation. A team of replacement level players would win ~50 games (making them one of the worst teams ever), so that's the baseline I used for this project. A real team has more than nine players contributing, so I'm giving Springfield average starting pitchers to fill out their rotation (2 WAR each, 8 WAR total) and an average bullpen too (another 2 WAR). The backup position players are set at replacement level (0 WAR), except for Homer, who is set at average (2 WAR, prorated for playing time). Why does Homer get an artificial boost? Because he was crushing the ball that year!
50 + 10 (from other pitchers) + Homer + The nine MLB players' WAR = Wins.
The season got off to a solid enough start during April, despite the offense not really clicking. Mike Scioscia and Steve Sax in particular looked lost at the plate, but Clemens, harnessing the power of positive thinking (through hypnosis) was the best pitcher in baseball that month. Ken Griffey, the team's youngest member, was slowed in the season's opening weeks as team physician Dr. Julius M. Hibbert worked to fight an acute case of gigantism which Griffey developed during spring training. A brain and nerve tonic Griffey had been taken was thought to have led to the malady. Hibbert pleaded with him to stop. "I worried it would kill him," Hibbert now says, chuckling. Griffey believed that if he just wore his cap backwards, no one would notice his swollen cranium.
Jose Canseco was the team's top hitter that first month, followed by right fielder Darryl Strawberry. On the last day of the month, Strawberry made an incredible jumping catch (witnesses swore he was in the air five full seconds), but the impact of landing from such a great height caused a sharp pain in his back. Strawberry suffered through it for a couple weeks, but was soon on the disabled list and would not return until after the All-Star Break.
"Oh yeah, he (Strawberry) was Burns' favorite," says Carl Carlson, the team's utility infielder that year, "so he hated to see Straw out of the lineup." Despite the skipper's affection for Strawberry, if one starter on the team had to be out, his absence was perhaps least damaging, because the team's one solid bench player was the backup right fielder and hometown hero, Homer Simpson. His base running and glove work were both suspect, but Simpson had tremendous pop and an uncanny ability to get on base when the team needed it most, whether by lining a single off the center field wall or putting himself in front of a pitch and taking his free base.
Clemens continued to dominate the competition throughout May, his starts were almost automatic victories that month. Ozzie Smith, who'd already been turning in another fine defensive season, started hitting the ball well and Wade Boggs could hardly be kept off the bases. Ken Griffey, feeling better, smashed the ball all month. Scioscia and Sax continued to struggle. Many called for them to be replaced in the lineup. But backup backstop Eugene Fisk, a straight arrow if ever there was one, refused to ask for more playing time. Fans were not as kind. "Mike what's-his-name couldn't hit to save his life," says neighborhood barkeep Moe Szyslka, "and Steve Sax was a known criminal. I'm an upstanding sort, I didn't want the team associating with his type." Scioscia was rumored to want to quit playing entirely, but Burns wouldn't hear it. Meanwhile, the wins were piling up, 18 of them in May alone. At month's end, the National League East standings looked like this*:
| | | | |
| --- | --- | --- | --- |
| | Wins | Losses | Games Back |
| Springfield | | | |
| San Francisco | | | |
| San Diego | | | |
| Los Angeles | | | |
| Atlanta | | | |
| | | | |
- - -
*I had to make a decision about where to put the team. Because there was no DH, it seemed like they belonged in the National League. Because Springfield was later identified as being in northern Kentucky, I felt it made the most sense to have them replace the Cincinnati Reds. The standings you see just above (and again later on) are accurate for the other five teams in the division. I've done my best to look at each of the nine real players' actual monthly splits that season, so that (for what it's worth) not only will the team's final record be an accurate reflection of the kind of season they'd have had, but the ups and downs of the season are accurate too. Strawberry really did hurt his back and miss a huge chunk of the season, Clemens really was incredible in the early stages, Griffey was fantastic in May, etc.
- - -
Canseco and Griffey both continued to put up solid numbers in June and Don Mattingly was warming up too, turning back the clock to his peak years of the mid to late 80s. Near the end of the month though, Mattingly and Burns got into a heated argument. The team's bat boy that season, Milhouse Van Houten was nearby when it went down. "Mr. Burns was angry about Mattingly's sideburns, and that was weird, because Don Mattingly didn't
have
sideburns. I'd noticed before, because I always thought baseball players with big sideburns were cool." Added Van Houten, "Mr. Burns and Don Mattingly started out like Romeo and Juliet, but instead it ended in tragedy."
Tragedy is probably something of an overstatement, but things did remain contentious between them during the rest of the season, and Mattingly's numbers dropped back off shortly after the incident. All in all though, June was another strong month for the club, early July too. Clemens, Griffey, Boggs, Smith, and Canseco were all named to the All-Star team and when the break rolled around, the team was still in first place, but the Atlanta Braves were charging hard:
| | | | |
| --- | --- | --- | --- |
| NL West | Wins | Losses | Games Back |
| Springfield | | | |
| Atlanta | | | |
| San Diego | | | |
| San Francisco | | | |
| Houston | | | |
| | | | |
The week after the All-Star Game brought two big changes to the team: Strawberry returned to the lineup, his back seemingly healed after weeks of therapy with a doctor named Nick Riviera. This moved "Home Run" Homer back to the bench, much to the chagrin of many fans. Just days later, Canseco was admitted to the hospital. He blamed his condition on having spent a day and a half helping a family of twelve move from their small apartment into a larger space on the eighth floor of a building with no elevator. Many doubted his story though. Canseco had been spotted out on the town with his teammate Wade Boggs on numerous occasions, and the two of them had a reputation for finding trouble. There were those who believed Canseco's absence was actually the result of having gotten involved with a local school teacher, known around town for her interest in athletes (and most other men too). In any event, he missed almost three weeks of the season with what was termed "exhaustion."
It would seem to have made sense to move Simpson to left field to cover for Canseco. After all, he'd been hitting well in Strawberry's absence. Burns instead gave those starts to the team's 25th man, Tibor. Simpson sulked. Rather than joining teammates along the dugout rail, Homer was usually found at the end of the bench, scratching himself and mumbling about the unfairness of life. Canseco would return in early August, but didn't hit nearly as well as he had before. Boggs was slumping too. He blamed his struggles on a lack of good fried chicken in Springfield, a food he credited with helping him to great success during his career. In a town dominated by Krusty Burger, a good piece of chicken was not easily found.
Bullpen problems arose as well. The team's closer, Lenny Leonard, had been having a solid year. But in back-to-back games against Pittsburgh, Leonard blew two-runs leads in the 9th inning. In the clubhouse after the second of those games, Burns flipped a table with the postgame spread on it, sending pudding into Leonard's eye. He would miss the rest of the season. On top of all that, the usually dependable Ozzie Smith was left behind during a road trip in Los Angeles, when he could not be found when it was time for the team bus to depart for the airport. It turned out he'd lost track of time while touring the Neverland Ranch.
Other than Griffey, the entire team stopped hitting. Strawberry's back turned out not to be as healed as Dr. Riviera led him to believe. His play during late July and early August was horrid. The fans, frustrated that Simpson was no longer in the lineup, turned on Strawberry, who proved to be surprisingly sensitive. After a particularly rough afternoon in right field, Strawberry asked out of the lineup, citing the same back ailment he'd already missed three months with. Simpson was back on the field, but couldn't regain his magic from May and June. On August 16th Springfield fell behind Atlanta in the standings. By the end of the month, they were five games back.
The season's final month was largely uneventful. A handful of players, including Mattingly, Sax, and Boggs hit somewhat better, but it was too late to do much good. By then Burns has relieved himself of managing duties, turning the position over to Stewart, his power plant's most competent worker. His dedication and know how at the plant were all well and good, but he didn't know much about baseball. Stewart also happened to be a duck. Atlanta continued the roll it had begun in late May and won the division going away. The final standings:
| | | | |
| --- | --- | --- | --- |
| NL West | Wins | Losses | Games Back |
| Atlanta | | | |
| Springfield | | | |
| San Diego | | | |
| Houston | | | |
| San Francisco | | | |
| | | | |
- - -
*It would have made for a cool story if a team with those players really did project as a champion, but the total lack of production from Scioscia, Sax, and Strawberry would have done them in, even with the average pitching I added to the roster. Clemens was tremendous, leading the league in almost everything. Griffey and Smith had great seasons too. I think they would have been a good team, but not nearly as good as Atlanta.
- - -
Ultimately, the team fell short of Burns' hopes and expectations. When the season ended, he broke the roster up and went back to focusing on his power plant and plans for a casino in Springfield that might add to his already immense wealth.
Roger Clemens was a strong contender for the Cy Young Award, but lost out to Greg Maddux. He retired in 2007 having had one of the most accomplished careers in history (though he was dogged by rumors of tomacco juicing).
Mike Scioscia announced his retirement. He worked at the power plant for a number of years, but after his third hospital bout brought on by radiation poisoning, he returned to baseball as manager of the Anaheim Angels.
Don Mattingly returned to the Yankees, where he played three more seasons. Like Scioscia, he later became a Major League manager. Sideburns remain a touchy subject.
Steve Sax later ran for a seat in the California State Assembly, but dropped out of the race when word of his possible criminal ties came out. Even today, there are hundreds of unsolved murder cases in New York City.
Wade Boggs went on to write a book about the great Prime Ministers of England. It did not sell well.
Ozzie Smith played another four seasons. Upon his retirement Smith set out on a tour of 37 countries, from which he has not yet returned.
Jose Canseco
lost his mind
.
Ken Griffey Jr. went on to one of the finest careers in Major League history. Unfortunately for him, brain and nerve tonic was discontinued in 2001. He was never the same.
Darryl Strawberry played seven more seasons, but never found a manager he liked as much as C. Montgomery Burns. The two have maintained a close pen pal relationship for the last twenty-one years.
Here are the final stats for the key players on that Springfield team in 1992:





Rarely in sports history has one team meant so much to so many. Even though they fell short of winning the pennant so coveted by their owner and fans alike, history remembers them fondly.
Follow me on Twitter
@JasonLukehart