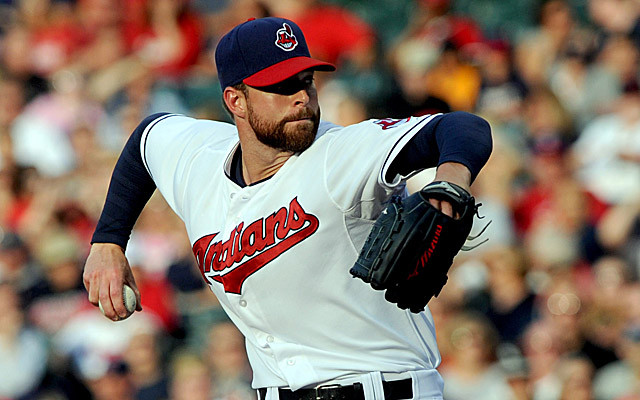 There were 12 Madduxes pitched in 2014. For the 27 seasons (1988-2014) we have pitch count data for, the average number has been 10.7, so this season was above average, especially when considering that the peak period for Madduxes was the late 80s and early 90s, while they've been less frequent during the last 20 years. This was the second year in a row to feature an even dozen of them, which hasn't happened in consecutive seasons since 1992 and 1993. We've really seen a resurgence to level not witnessed since years before I first created the Maddux in 1998.
In case you're unfamiliar, a Maddux is a complete game shutout on fewer than 100 pitches. For the original Maddux post, with an origin story, leader boards, and fun facts,
click here
.
The Madduxes of 2014 (in chronological order):
April 19: Henderson Alvarez (Marlins 7, Mariners 0) - 2 H, 0 BB, 4 K, 90 pitches
Alvarez also pitched the final Maddux of 2013 (a no-hitter on the final day of the regular season, making him only the second pitcher ever to throw two Madduxes without anyone else throwing one in between. The other was Bob Tewksbury, way back in 1990.
May 29: Josh Collmenter (Diamondbacks 4, Reds 0) - 3 H, 0 BB, 5 K, 94 pitches
Collmenter has started 63 MLB games, but this was his first (and remains his only) complete game.
June 1: Kyle Lohse (Brewers 9, Cubs 0) - 3 H, 0 BB, 6 K, 93 pitches
Lohse also threw a Maddux last year. 31% of the pitchers who've thrown a Maddux since 1988 have eventually thrown at least one more.
June 3: Henderson Alvarez (Marlins 1, Rays 0) - 8 H, 0 BB, 5 K, 88 pitches
Alvarez became only the 18th pitcher of the Maddux era to throw more than one in a single season, and the first since Josh Beckett in 2009. Greg Maddux himself and Zane Smith are the only ones to ever throw 3 in a season.
July 1: Rick Porcello (Tigers 3, A's 0) - 4 H, 0 BB, 0 K, 95 pitches
Porcello became only the third pitcher to throw a Maddux without recording any strikeouts, joining Zane Smith and Tom Glavine.
July 30: Corey Kluber (Indians 2, Mariners 0) - 3 H, 0 BB, 8 K, 85 pitches
This was the Maddux with the fewest pitches of the season. Kluber was opposed by Felix Hernandez that day, and as an Indians fan, I was glued to the TV and I enjoyed this one as least as much as any of the Madduxes I've been able to watch over the years.
August 3: Madison Bumgarner (Giants 9, Mets 0) - 2 H, 1 BB, 10 K, 94 pitches
This is one of just 14 Madduxes to include 10+ strikeouts, and one of only 6 to also include a walk. Those outcomes obviously require at least 3 or 4 pitches, so Bumgarner must have been especially efficient with the other batters he faced.
August 13: Jason Vargas (Royals 3, A's 0) - 3 H, 0 BB, 4 K, 97 pitches
The Royals entered this season with only 5 Madduxes ever, which was the lowest total of any team that existed before the start of the Maddux era. This was their first since 2002, when Jeff Suppan threw one for them.
August 31: Clay Buchholz (Red Sox 3, Rays 0) - 3 H, 0 BB, 6 K, 98 pitches
This was Boston's fifth Maddux since the start of 2009, which is tied with the Phillies for the most during that time.
September 8: Marcus Stroman (Blue Jays 8, Cubs 0) - 3 H, 0 BB, 8 K, 93 pitches
This was Toronto's 15th Maddux, which is the most of any American League team. Stroman is the 11th player to pitch a Maddux for the Blue Jays, which ties them with the Phillies for most different pitchers with a Maddux.
September 15: Andrew Cashner (Padres 1, Phillies 0) - 2 H, 1 BB, 7 K, 92 pitches
Last September there were 3 Madduxes, thrown by Alvarez, Lohse, and Cashner. It's pretty remarkable that all three of those guys pitched another one this season. This one by Cashner's was one day shy of the anniversary of his previous one.
September 17: Carlos Carrasco (Indians 2, Astros 0) - 2 H, 1 BB, 12 K, 98 pitches
Carrasco tied Cliff Lee's record for most strikeouts in a Maddux, and in the very first shutout of his career. Carrasco and Kluber became the first American League teammates to each throw a Maddux in the same season since Jamie Moyer and Felix Hernandez (what a pair!) back in 2006.
-
There you have it, every Maddux of 2014. Of course, 2014 isn't actually over. The postseason begins tonight, and it's possible we'll get another Maddux some time in the next month. The last postseason Maddux was thrown way back in 1985 (when MLB was keeping track of pitch counts for postseason games, but not during the regular season). Bret Saberhagen did it in Game 7 of the World Series, which is pretty damn cool.