This seems like a subjective thing, I know, but Ken Griffey Jr. was
the
ballplayer for my generation. The #1 overall pick in 1987, Griffey made his MLB debut on Opening Day in 1989, when he was still a teenager. He was a huge deal right from the start, popular enough that in just his second season, he was voted by fans to be a starter for the All-Star Game, making him the second-youngest position player ever to be so honored. (Only Al Kaline was voted in at a younger age, and by just one month.) By the end of his age-30 season, he'd hit 40+ home runs in seven different seasons. Before Griffey, no one so young had done that more than five times. He made breathtaking plays in center field, the kind every kid pretended to make when he was at Little League practice or alone in his backyard, and won ten consecutive Gold Gloves during the 90s. He finished in the top five of the AL MVP vote five times, winning the award in 1997, and having an excellent case for it in 1993, 1994, and 1996 as well. He was chosen for the All-Century team, despite not yet having turned 30. He was elected to the Baseball Hall of Fame in 2016, having received a record 99.32% of the vote. Only a fool would leave Griffey off their ballot.

-
This countdown is a way for me to look back at the three decades I've spent as a baseball fan. My introduction to the project, with an explanation of sorts, and links to every entry can be found here.
-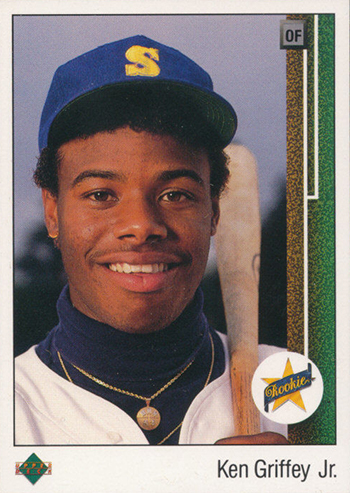 Griffey was a big deal to me from even before his MLB debut on Opening Day of 1989. Upper Deck was a new baseball card company then, and a month or two before the season began they released their first set. Griffey, wearing a Mariners hat that had to be airbrushed onto the photo because pictures of him in a Mariners uniform didn't even exist yet, became the marquee card of the set, more sought after than any other card of that era. Kids thought they'd be buying their first house with the money they'd get from selling all their Griffey rookies someday. I never managed to open one in a pack, though not for lack of trying, (and at $1 a pack, Upper Deck counted as a major purchase at the time, when most other brands were still something like 40 cents), and could never convince anyone to trade me one, probably because I didn't have a nice enough bike to offer in exchange. Near the end of high school I heard about a website called eBay. It took a few minutes to set up an account. $47 and a few nervous days of waiting for the mail later, I finally had what I'd spent nine years missing.
In 1992, Griffey was one of the nine players tracked down by Smithers to play for the Springfield Nuclear team in the landmark episode of the Simpsons, "Homer at the Bat." (Something I wrote
one of my favorite posts ever
about) He was the youngest member of Mr. Burns' team by five full years. Sadly, Griffey got hooked on nerve tonic and missed the big game.
In 1994 Griffey had already hit 40 home runs when the labor stoppage wiped out the rest of the season. By the end of 1999 Griffey had hit 398 home runs, and still hadn't turned 30, giving him more long balls at that age than any player in history. He seemed a good bet to eventually break Hank Aaron's all-time record. Even though he'd said he wanted to be traded, I was shocked when it actually happened, and he was sent to Cincinnati prior to the 2000 season. The second half of Griffey's career couldn't live up to the first half, which is why he's "only" one of the top 50 or so greatest players ever, instead of one of the top 20.
Griffey often wore his hat backwards, and it's funny now to think back on how controversial that was at the time. Some said it was a sign he wasn't taking things seriously enough, but it inspired a ton of kids to do the same thing, and made Griffey an early hero in the newest version of the generational war that had probably been going on since humans first lived long enough to give much thought to different generations. The backwards hat became such a part of Griffey's identity that when he was elected to the Hall of Fame in 2016 there was a strong push to include it on the official portrait for his plaque. Ultimately he and the Hall agreed on a front-facing Mariners cap, but during his induction speech, Griffey took out a cap and put it on backwards, bringing huge cheers from the crowd.
He had the most beautiful swing in baseball, and used it to hit sizzling lasers and majestic moonshots, home runs to every part of the stadium. He made breathtaking plays in center field, the kind every kid pretended to make when he was at Little League practice or alone in his backyard. He epitomized cool. Griffey wasn't my favorite player and it turns out he wasn't quite the best player (though he seemed it at the time), but he was most definitely
the
player.