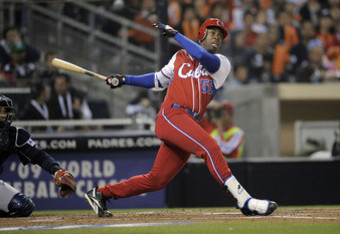 Yesterday afternoon, after much speculation over the last few months, Cuban outfielder and highly sought prospect Jorge Soler signed a deal with the Chicago Cubs. The contract specifics have not been officially announced, but reports have it at $30 million over nine years. Nine years is a major commitment in professional baseball, something few players ever receive, but Soler is viewed as a potential All-Star and $30 million is a lot less than it usually takes to acquire such talent in the free agent market. That said, $30 million is also a lot more than it usually takes to acquire a 20-year-old prospect, no matter his talent.
Upon his defection from Cuba last year, Soler was in immediate demand from multiple teams, however he had to wait for clearance from the United States Government to declare him eligible before he could pursue employment. That happened on June 2nd, and it took less than two weeks for things to play out from there. Soler has serious power potential and also profiles as having above average speed and a strong throwing arm. His swing is said to have quite a few holes in it, so his main focus between now and whenever he reaches the Major Leagues will likely center around pitch recognition and plate discipline. Bryce Harper (19 years old) and Mike Trout (20) are making baseball look easy for players so young, but what they're doing is incredibly rare, and Soler won't be playing for the Cubs this year or next. A more realistic take has him spending the next two and a half years and then joining the big league team in 2015. That shouldn't be of much concern to Cubs fans, as the team is unlikely to be competitive until then anyway.
The $30 million I cited above is guaranteed money, meaning that if Soler suffers a career ending injury or simply never develops into a Major League player, he's still getting paid. There is also said to be a clause in the contract that should Soler like, he can opt into arbitration later in the contract, should he reach that point in his professional development. Basically, that means that once he's played three seasons in the Majors, he can actually earn more money (but not less) than this contract calls for. The only reason Soler was able to command such terms as a 20-year-old is that he was not eligible for the MLB draft, which is how most players enter American professional baseball. Only residents of the U.S., Canada, and American territories (most commonly Puerto Rico) are subject to the draft. Unlike the hundreds of players drafted last week, Soler had no obligation to a specific team and could put his services into something much closer to the free market.
Had Soler been subject to the draft, he would likely have been chosen somewhere in the ballpark of the 5th to 10 overall pick; his talent is evident and his ceiling is high. Major League Baseball has established values for each draft pick in the early rounds, a financial number (in guaranteed dollars) teams are supposed to sign players to. Teams are allowed to go a bit "over slot," but the new collective bargaining agreement has put penalties into place for teams that routinely do so. As I said, Soler would likely have gone somewhere between 5th and 10th overall. Let's say he was drafted 7th; the designated slot money for the 7th pick? $3 million. In other words,
Soler was able to secure ten times as much money because he wasn't forced into the draft.
Many argue that international players should be included in the draft, putting them in the same boat as American players, because the current system gives wealthy teams an advantage. As a fan of the small (and getting smaller) market Indians, such an argument often sits easily with me, because it goes with my belief that the playing field is unfairly tilted against Cleveland and other similar teams. But the Oakland Athletics (no one's idea of a wealthy MLB team) proved that smaller market teams
can
be involved in such signings, when they landed Yoenis Cespedes (another prized Cuban player) last winter.
I don't know enough about what it would mean to speak with much authority, but to say international players should simply be subjected to the draft without any other changes is an oversimplification, I think, and not something I can throw my support behind without someone doing more to convince me. There is some evidence and much belief that MLB's 1990 decision to include Puerto Rico in the draft has led to
the demise of baseball there
, and the same thing might happen in other places like the Dominican Republic and Venezuela if their players were drafted the same way as Americans.
The greatest bargains in professional baseball are talented young players, because their production costs teams relative peanuts in comparison with the price of similar production on the free market. Jorge Soler may or may not prove to be worth the Cubs' investment in him, it'll be years before we really know that. What really jumped out at me in all this is the stark difference between Soler's contract and those of the top draft choices and what that all says about the economic system baseball has in place. This isn't to say I'm against the draft (on the contrary, baseball's economic inequities would be greatly exaggerated without the draft), but I do think it's worth taking a moment to reflect on how greatly it deflates the earning potential of the players involved.